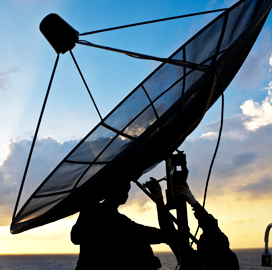 Satellite communications
Army Continuing Work With Providers to Improve Satcom Solutions Acquisition
The U.S. Army is continuing to gather feedback from industry on how it will acquire and use satellite communications.
According to the military branch, the satellite services will help warfighters talk to each other beyond the line of sight. The Army anticipates that battles in the future will require soldiers to have the means to communicate with each other over greater distances while being in a disaggregated situation.
Col. Shane Taylor, project manager for tactical networks at Program Executive Office Command, Control, Communications-Tactical, said the service wants to know the best satcom architecture to use and how it will price out its needs to industry providers. A request for information was issued in 2020 to give the organization more insights into satcom services, C4ISRNET reported.
Taylor said the Army is starting to learn how to better compare offerings and prices from satcom providers. According to the program manager, companies are good at coming up with different ways to charge for their services. He added that different entities have various approaches to providing solutions, with some offering a full range of integration services and others offering specific solutions.
The PEO C3T official also wants to ensure that the military branch will have a flexible arrangement to improve its communications capabilities. He argued that getting into a vendor lock situation will create challenges that would prevent satcom improvements.
The service is still conducting meetings and demonstrations with communications providers and expects to finish such activities by the end of 2021. It would then enter the next phase by 2022, which could include a request for papers or another industry event.
Category: Space
Tags: C4ISRNET SATCOM satellite communications Shane Taylor space US Army