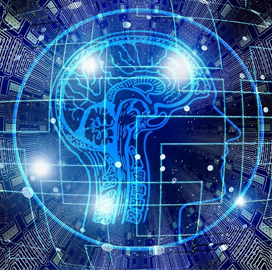 Artificial intelligence
Army to Focus on AI-Enabled Systems for Project Convergence
The Army said it will focus on developing the artificial intelligence-powered systems critical for the success of Project Convergence this year.
Project Convergence is a multi-platform initiative aimed at merging joint force capabilities. The effort is the Army's contribution to the Department of Defense's joint all-domain command and control concept, FedScoop reported Wednesday.
The project already uses AI software to process satellite data and send updates to combat units. In September 2020, the Army installed an ad hoc network at Yuma Proving Ground that allowed data to move faster and farther than originally envisioned.
Maj. Gen. Peter Gallagher, a past Potomac Officers Club event speaker, said the network allows data to flow from intelligence satellites not operated by the Army down to Joint Base Lewis McChord, Project Convergence's central hub in Washington State.
Army officials said the new AI and network tools will help the service take advantage of existing technologies.
Project Convergence involves a series of incremental development efforts and exercises aimed at achieving multi-domain force by 2035, the Army said in a press release.
Curtis Nowak, JADC2 director of the Army Joint Modernization Command, said the first year of Project Convergence highlighted the importance of integrating new capabilities early and often. 
He said the lessons learned from 2020 will help with the creation of new simulated environments at Aberdeen Proving Ground.
The site has unique laboratory facilities that will allow the Army to perform risk reduction on technologies without having to encounter real challenges on the field, Nowak added.
Category: Defense and Intelligence
Tags: AI Army Army Joint Modernization Command artificial intelligence Defense and Intelligence Department of Defense DoD FedScoop JADC2 Joint Base Lewis-McChord Peter Gallagher Project Convergence Yuma Proving Ground