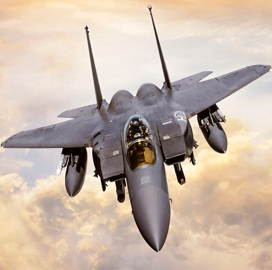 F-15 aircraft
BAE Systems to Start Initial Production of F-15's Electronic Warfare System
BAE Systems is set to begin low-rate initial production of the F-15 Eagle Passive Active Warning and Survivability System under the terms of a $58 million contract awarded by Boeing.
EPAWSS is an all-digital electronic warfare and countermeasures system designed to protect F-15 pilots and help them maintain air superiority. It hosts capabilities for monitoring, jamming and deceiving threats in contested airspace, BAE Systems said Tuesday.
The EW system relies on a combination of multispectral sensors, signal processing, microelectronics and intelligent algorithms to deliver fully integrated radar warning, situational awareness, geolocation and self-protection capabilities.
In a statement, F-15 EPAWSS program manager Lt. Col. Dan Carroll said the system will improve the survivability and utility of the F-15.
The Air Force conducted a series of EPAWSS tests, including flight tests, ground tests and technology demonstrations, before green-lighting the system's initial production.
The initial tests were completed in April 2019 at the Benefield Anechoic Facility on Edwards Air Force Base in California. The tests were a collaborative effort between the F-15 System Program Office at Wright-Patterson AFB in Ohio, Boeing, BAE Systems and other Air Force components.
Incremental updates were provided to the system throughout its development. New geolocation and threat identification capabilities were added to EPAWSS during its engineering and manufacturing development phase.
BAE Systems has invested in manufacturing capabilities and workforce expansion efforts in anticipation of the initial production of EPAWSS. The aerospace company has spent more than $100 million on EW laboratories and factories and has grown its workforce of innovative, mission-focused experts.
Category: Defense and Intelligence
Tags: BAE Systems Boeing Dan Carroll Defense and Intelligence electronic warfare EPAWSS F-15 LRIP US Air Force