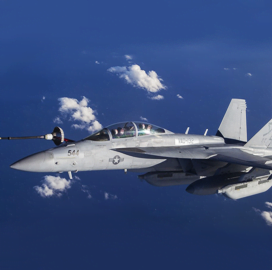 EA-18G Growler aircraft
Boeing Begins Modification Work on Navy's EA-18G Growler Fleet
Boeing has inducted the first jet that is part of a five-year modification program for the U.S. Navy's EA-18G Growler fleet.
The Growler was inducted into the program at Naval Air Station Whidbey Island in Washington.
The Boeing aircraft is an advanced airborne electronic attack platform designed to jam threat forces' radar and communications signals. Naval forces use the jet to disable the ability of adversaries to detect and track U.S. and allied military forces.
The modification work is focused on enhancing the structural and mission systems architecture of the jets to provide a future capability growth for 160 Growler aircraft at the Navy, Boeing said.
In October 2020 and February 2021, the Chicago, Illinois-headquartered company received contract awards for materials and labor.
Its ongoing modification work includes upgrades for the Growler's ALQ-218 receiver system. Boeing will provide airborne electronic attack system enhancements to the ALQ-218 to allow the Growler to operate in continuously evolving electromagnetic environments.
According to the company, other modifications are aimed at delivering a "more rapid and secure data transfer" to other jets and systems by expanding the Growler's information pipeline. Boeing will also prepare the Growler for the Navy's Next Generation Jammer System, which the company says boosts the jet's electronic attack capability.
According to the program schedule, the entire Navy Growler fleet will be modified in five years, with full-rate modifications expected to begin this June.
The company is working on the modification program in collaboration with the U.S. Pacific Fleet as well as with the Naval Air Systems Command's F/A-18 and EA-18G Program Office and the Airborne Electronic Attack Systems Program Office.
Category: Defense and Intelligence
Tags: Boeing communications Defense and Intelligence EA-18G Growler electromagnetic environment jamming modification program PMA-234 PMA-265. ALQ-218 radar threat forces US Navy