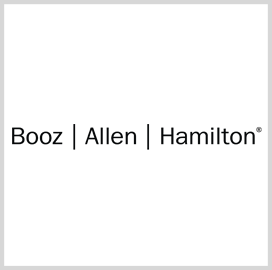 Booz Allen Hamilton
Booz Allen to Support 5G Experiments at Joint Base Lewis-McChord, Hill AFB
Booz Allen Hamilton will support two projects under a $600 million contract initiated by the Department of Defense to advance experimentation and testing of 5G dual-use applications at select military locations.
The projects focus on enabling 5G dynamic spectrum sharing and using augmented reality and virtual reality capabilities for military training, Booz Allen said Thursday.
Hill Air Force Base in Utah will serve as the testbed for DSS experiments. The goal is to enable the Air Force's airborne radar systems to perform 5G DSS.
Central to the experiment is a prototype that will demonstrate a fieldable spectrum coexistence and sharing system.
The prototype will be integrated with Booz Allen's artificial intelligence spectrum sensing application, which is based on novel R.AI.DIO signal processing algorithms.
Booz Allen will also help out with AR/VR experiments at Joint Base Lewis-McChord in Washington, with the goal of delivering better military training.
By developing an Army-owned prototype based on its AR/VR-driven Digital Soldier offering, the company hopes to create immersive virtual training environments for the nation's soldiers.
Chris Christou, Booz Allen's vice president for 5G and cloud security, said in a statement that integrating 5G technology into warfighting capabilities is necessary to deliver the best military training and to maintain the country's competitive advantage.
In addition to Hill AFB and Joint Base Lewis-McChord, the DOD has launched 5G testbeds at Marine Corps Logistics Base Albany in Georgia; Naval Base San Diego in California; and Nellis Air Force Base in Nevada.
The department plans to conduct another round of 5G experiments at seven other military sites, expanding on its initial $600 million investment. According to a SIGNAL Magazine report, future experiments will focus on enhancing aircraft mission readiness, providing augmented reality support for medical training and telemedicine and establishing wireless connectivity for tactical operations centers and combat operations centers.
Category: Defense and Intelligence
Tags: 5G augmented reality Booz Allen Hamilton Chris Christou Defense and Intelligence Department of Defense Digital Soldier DoD Hill Air Force Base Joint Base Lewis-McChord Spectrum Coexistence and Sharing virtual reality