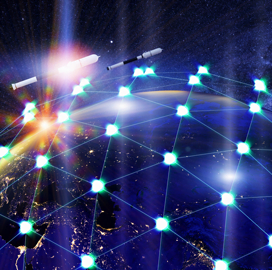 Satellite hardware
Capella to Install Mynaric Communications Terminal on SDA Synthetic-Aperture Radar Satellites
Capella Space has secured a contract to install optical communications terminals on synthetic aperture radar satellites operated by the Department of Defense. The work will start in 2022.
The contract is part of a campaign to deliver data through the Space Development Agency's Transport Layer low-Earth orbit constellation. Capella will use communications equipment provider Mynaric's Condor Mk3 optical communications terminal to transmit data from its LEO satellites to government satellites and military ground stations. SDA plans to start developing its Transport Layer platform in late 2022 with the goal of allowing satellite operators to sell their data to the government directly from space, SpaceNews reported Tuesday.
Mynaric will deliver one terminal in 2022 for an interoperability demonstration with SDA in 2023. The company plans to ramp up Condor production by the end of 2022.
Christian Lenz, chief technology officer at Capella Space, said the contract would allow the San Francisco-based company to more efficiently work with the Pentagon and the intelligence sector. Mynaric CEO Bulent Altan stated that the Condor Mk3 meets the SDA's interoperability standard and conforms to Capella's approach to integrating commercial capabilities with government customers.
The Condor Mk3 is a terminal designed for inter-satellite operations. It can support link distances above 7,500 kilometers and can support data coverages between 100 Mpbs and 100 Gpbs.
Capella Space offers SAR imagery products and services to government and defense agencies.
Category: Space
Tags: Bulent Altan Capella Space Christian Lenz CONDOR Mk3 optical communications terminal Department of Defense Mynaric space Space Development Agency SpaceNews synthetic-aperture radar