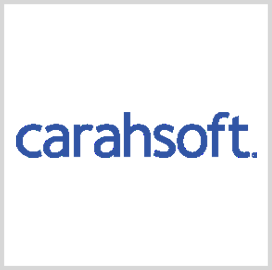 Carahsoft
Carahsoft Blanket Purchase Agreement Receives Core Enterprise Technology Agreement Designation
The Department of Defense has designated Carahsoft's blanket purchase agreement for Splunk solutions as a Core Enterprise Technology Agreement.
As a CETA, Carahsoft's purchasing vehicle is now mandatory for all DOD customers who want to acquire Splunk products and services.
Carahsoft is the second vendor to have ever received the CETA designation. The first was immixGroup, whose Tanium BPA received CETA designation from the U.S. Navy's Program Executive Office for Enterprise Information Systems.
The DOD's CETA with Carahsoft has a maximum value of $833 million over 10 years. The designation is part of the Pentagon's Enterprise Software Initiative to modernize the defense and intelligence communities, Carahsoft said.
According to Carahsoft, Splunk will provide asset management and cybersecurity software, software maintenance support, professional services and training to help the department accelerate technology innovation and adoption.
"This designation allows us to offer increased benefits to defense agencies, including more flexible licensing, volume discounts and an overall consolidated procurement pathway for better visibility and contract management," said Rebecca Brennan, director of the Splunk team at Carahsoft.
Frank Dimina, vice president of Americas and the public sector at Splunk, said the company will provide a holistic "data-to-everything platform" for mission-critical support.
Sponsored by the DOD chief information officer, the ESI program leads the establishment and management of enterprise commercial off-the-shelf information technology agreements, assets and policies within the department.
The initiative is aimed at lowering the total cost of ownership across the defense and intelligence communities for commercial software, IT hardware and services.
Carahsoft is a privately held business that sells IT hardware, software and consulting services to federal, state and local governments and educational institutions.
Category: Cybersecurity
Tags: BPA Carahsoft CETA Core Enterprse Technology Agreement COTS cybersecurity Department of Defense DoD ESI Frank Dimina immixGroup modernization professional services Rebecca Brennan Splunk Tanium