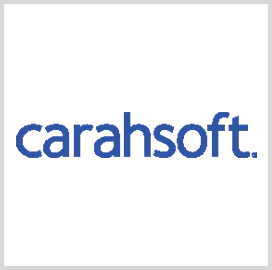 Carahsoft
Carahsoft to Fulfill DOD's IT Needs Under New EIS Contract
Carahsoft Technology has been awarded a blanket purchase agreement to provide the Department of Defense with software, services and training.
The DOD Enterprise Software Initiative BPA was awarded through the company's General Services Administration Federal Supply Schedule contract.
DOD EIS is an initiative sponsored by the Pentagon's chief information officer to support the establishment and management of enterprise commercial off-the-shelf information technology agreements, assets and policies, Carahsoft said Thursday.
Carahsoft said the new BPA, in combination with a previous one of the same kind, will expand the DOD's access to asset management and security solutions.
Under the terms of the agreements, Carahsoft and its resellers will support the DOD, the Intelligence Community and the Coast Guard with software, software maintenance support, IT information technology professional services and training support.
"Carahsoft and our vendor partners are honored to support the DoD and intelligence sector with advanced technology to protect their data and improve performance," said Carahsoft President Craig Abod, a 2021 Wash100 winner.
Abod added the two BPAs will provide Carahsoft's government customers with access to capabilities offered by more than 20 providers and the company's reseller partners.
Carahsoft is a government IT solutions provider that supports an ecosystem of IT manufacturers, resellers, system integrators and consulting partners.
The company recently joined Broadcom's cybersecurity aggregator program, which provides access to the semiconductor company's proprietary purpose-built tools and resources.
In December 2020, Carahsoft entered into a partnership with Opus Interactive to offer hybrid and multi-cloud services to the public sector and education markets. Carahsoft is now the Oregon-based cloud service company's master government aggregator.
Category: Digital Modernization
Tags: blanket purchase agreement Broadcom Carahsoft Craig Abod cybersecurity Department of Defense digital modernization DOD EIS Federal Supply Schedule General Services Administration information technology Intelligence Community Opus Interactive Wash100