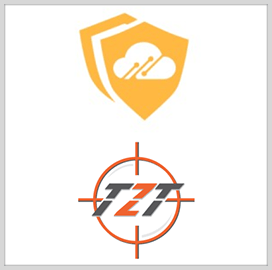 Caveonix and True Zero
Technologies
Caveonix Partners With True Zero to Deliver Complete Risk, Governance Solutions
Caveonix has entered into a strategic partnership with True Zero Technologies to provide complete risk and governance solutions to public and private sector companies.
Tim Sullivan, co-founder and co-CEO of Caveonix, said his company will help True Zero in its mission to help federal government customers implement DevSecOps as part of their digital transformation.
Sullivan added that the partnership will enable federal clients to achieve ongoing authorization for their systems, Caveonix said Thursday.
The Caveonix cloud platform, through its implementation of the National Institute of Standards and Technology's Risk Management Framework, facilitates ongoing authorization for federal agencies and continuous cloud governance for enterprises.
It combines cloud security posture management, cloud workload protection and governance, and risk compliance capabilities into one solution, ensuring that clients can protect and govern their cloud environments.
The platform supports environments such as Amazon Web Services, Microsoft Azure, Google Cloud, IBM Cloud, VMware, VMware Cloud, Kubernetes and OpenShift.
In a statement, Paul Sullivan, vice president of sales at True Zero, welcomed the partnership with Caveonix.
"With Caveonix, we're able to offer our customers a complete, global risk and compliance solution built for the enterprise, which is incredibly important for both our federal and commercial customers," Sullivan said.
The partnership boosts True Zero's ability to help clients meet information technology needs and accomplish their business goals.
Headquartered in Annandale, Virginia, the veteran-owned small business provides ITOps, Security Ops and DevSecOps services for public and private sector companies in the process of migrating their operations to the cloud.
Category: Digital Modernization
Tags: Caveonix cloud security posture management cloud workload protection DevSecOps digital modernization ITOps NIST Risk Management Framework partnership Paul Sullivan security ops Tim Sullivan True Zero Technologies