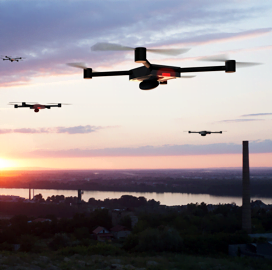 Drones
DARPA Develops Sensor Capability for Locating Enemy Drones
The Defense Advanced Research Projects Agency has developed a solution for performing wide-area surveillance of small drones in dense urban environments.
With its Aerial Dragnet capability, DARPA aims to utilize sensors mounted on drones to detect, classify and track other drones.
The goal is for Aerial Dragnet to transmit its tracking data from optical sensors, acoustic sensors and inexpensive radars to counter-drone systems and help them locate and eventually take down enemy drones, C4ISRNET reported.
DARPA began tests on Aerial Dragnet in 2019 in San Diego, California. Findings from the test allowed the agency to address the clutter in the solution's data feed and refine its signal processing algorithms.
Moving forward, DARPA hopes that the Aerial Dragnet program will get picked by another organization for further testing and development.
Tracking intel provided by the solution will supplement military counter-drone systems that are being developed to defeat adversary drones using technologies such as directed energy and microwaves.
Proposal reviews for a counter-drone weapon, dubbed the low-collateral effect interceptor, are underway. The new capability is envisioned to deal with small drones in urban environments without doing much harm to non-enemy aircraft and electronic systems near the field of intercept.
The push for counter-drone systems comes amid growing concerns from the government about the various dangers posed by small drones.
Speaking at the annual C4ISRNET Conference, DARPA's Paul Zablocky said small drones are widely available and pose threats to soldiers and civilian populations.
According to Zablocky, a program manager with the DARPA Strategic Technology Office, small drones can be equipped with explosives and used for intelligence, surveillance and reconnaissance missions.
Category: Defense and Intelligence
Tags: Aerial Dragnet C4ISRNET counter-drone systems DARPA Defense Advanced Research Projects Agency Defense and Intelligence Paul Zablocky small drones