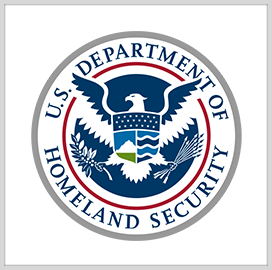 Department of Homeland
Security
DHS Forms Action Group to Address Climate Crisis
The Department of Homeland Security said it is taking several actions to adapt and respond to climate change.
During the Leaders Summit on Climate, DHS Secretary Alejandro Mayorkas announced the launch of a coordinating group tasked with leading the department's climate-related actions.
The DHS Climate Change Action Group is made up of senior leaders responsible for consolidating and elevating cross-functional efforts against the crisis, DHS said Thursday.
Mayorkas added that the department is taking steps to reduce emissions and promote resilience in collaboration with partners across all levels of government and the private sector. The department said it aims to electrify 50 percent of its vehicles by 2030.
"DHS will implement a new approach to climate change adaptation and resilience, and we will do so with the sense of urgency this problem demands," Mayorkas said.
On the same day, the DHS Federal Emergency Management Agency released a request for information on how it should modify its regulations and policies in light of the Biden administration's focus on climate change.
FEMA said the RFI's goal is to ensure that the government's policies and resources are tailored to serving communities disproportionately impacted by climate change. The agency will accept responses until June 21.
In January, President Joe Biden released an executive order directing federal agencies to review current regulations that conflict with the administration's goal to tackle the climate crisis.
The executive order's objectives included reducing greenhouse gas emissions and addressing the disproportionate impact of climate change on communities of color and low-income communities.
Category: Federal Civilian
Tags: Alejandro Mayorkas climate change Climate Change Action Group climate crisis Department of Homeland Security DHS Executive Order federal civilian FEMA Leaders Summit on Climate request for information RFI