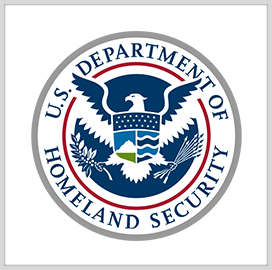 Department of Homeland
Security
DHS Funds Upgrades to Emergency Communications Infrastructure
The Department of Homeland Security Science and Technology Directorate is funding an effort to enhance the cybersecurity of legacy emergency communications infrastructure.
SecuLore Solutions, a Maryland-based cybersecurity product developer, will help S&T leverage analytics and cyber data to mitigate threats to both legacy systems and emerging security technologies, DHS said Thursday.
The company said that new capabilities, including Next Generation 911 and internet protocol-based technologies, will provide near-real-time analysis of threats to an emergency communications center's network.
NG911 is an initiative aimed at updating the 911 service infrastructure in response to the growing number of wireless mobile users.
The program is expected to improve public safety answering points' ability to handle call overload, natural disasters and the transferring of calls based on location tracking.
SecuLore said that its proposed cybersecurity solution would be able to provide remediation steps based on the behavior or type of malware.
Pilot testing is currently being done with the Emergency Services Department in Palm Beach County, Florida. DHS plans to eventually expand the pilot test to five other emergency communications centers.
During the trials, SecuLore will collect feedback from frontline users to help DHS better understand how emergency communications centers should deploy and manage the technology.
DHS said the project supports the Cybersecurity and Infrastructure Security Agency, which is tasked with ensuring that governments at all levels have the resources they need to securely operate emergency communications.
"Enhancements to cybersecurity of evolving NG911 systems, collaboration with our stakeholders and improving access to 911 infrastructure are critical to defending public safety communications systems," said Billy Bob Brown Jr., CISA's executive assistant director for emergency communications.
Category: Cybersecurity
Tags: Billy Bob Brown Jr. CISA cybersecurity Cybersecurity and Infrastructure Security Agency Department of Homeland Security DHS emergency communications Next Generation 911 NG911 pilot test S&T Science and Technology Directorate SecuLore Solutions