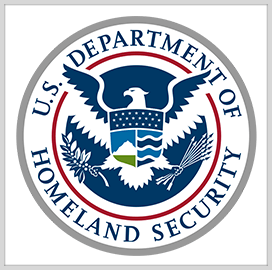 Department of Homeland
Security
DHS Releases Tools to Enhance PNT Resilience
The Department of Homeland Security Science and Technology Directorate has publicly released resources designed to protect against Global Navigation Satellite System spoofing.
The Positioning, Navigation and Timing Integrity Library and the Epsilon Algorithm Suite were designed to boost the resilience of PNT systems and other critical infrastructure from disruptions, DHS said.
"Since GPS signals can be jammed or spoofed, critical infrastructure systems should not be designed with the assumption that GPS data will always be available or will always be accurate," said Jim Platt, chief of strategic defense initiatives at the Cybersecurity and Information Security Agency's National Risk Management Center.
The PNT Integrity Library provides guidance for verifying the integrity of the received GPS data and ranging signals, helping mitigate the risk of GPS signal loss.
DHS said the library's software is scalable for GNSS-based PNT manipulation detection to offer the appropriate level of protection based on the available data.
The Epsilon Algorithm Suite is a codebase designed to provide end users with basic spoofing detection capabilities without any modifications to the existing GPS receiver.
Users will only need to feed the algorithm with information commonly provided by GPS receivers. The algorithms do not have to be implemented on the receiver itself, DHS said.
Platt said that while the pair of tools will enhance PNT resilience, users should also consider the integrity of PNT data from its reception through its use in the supported system.
In February, the National Institute of Standards and Technology published a PNT profile describing the government's effort to improve the cybersecurity of PNT services.
The profile includes a comprehensive list of PNT cybersecurity references to help most users tailor NIST's approach to their own systems, said Jim McCarthy, one of the profile's authors.
Category: Federal Civilian
Tags: algorithm Department of Homeland Security DHS-ST Epsilon Algorithm Suite federal civilian GNSS Jim McCarthy Jim Platt NIST PNT PNT Integrity Library PNT Profile