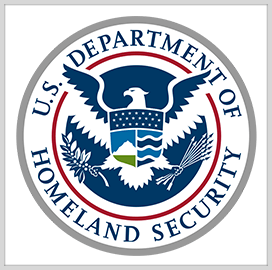 Department of Homeland
Security
DHS Taps CACI for $700M National Security Investigations Support Contract
CACI International is among the companies that have been selected for a five-year, multi-award Department of Homeland Security blanket purchase agreement that has a total federal program value of $700 million.
Under the agreement, the DHS is calling on the Arlington, Virginia-headquartered company to help conduct national security investigations.
The contract will cover enterprise technology in support of the full range of case types handled by the Homeland Security Department and its components, CACI said Thursday.
According to the company, which is headed by President and Chief Executive Officer John Mengucci, the DHS will take advantage of an investigations business model that will deliver "higher quality and more timely work."
In a statement, Mengucci said the company will apply its almost two decades of experience in conducting national security investigations to help protect the DHS as well as the integrity of the department's staff and mission.
The National Security Investigations Division at the DHS is responsible for helping the U.S. Immigration and Customs Enforcement's mission to protect the U.S. and its allies from security threats by identifying, disrupting and dismantling transnational criminal and terrorist organizations, as well as hostile foreign intelligence entities.
CACI's team of station investigators and other staffers will help the DHS, including the NSID, in conducting national security investigations by using its solutions, which have been used by other government clients, including the Department of Defense and the intelligence community.
Category: Federal Civilian
Tags: blanket purchase agreement CACI contract award Department of Homeland Security DHS DoD enterprise technology federal civilian ICE Immigration and Customs Enforcement Intelligence Community investigations John Mengucci multiple award national security NSID