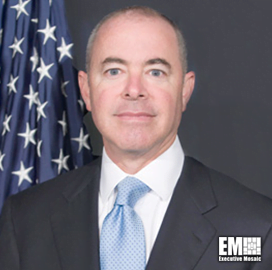 Alejandro Mayorkas
Secretary
DHS
DHS to Carry Out Activities to Strengthen Government-Wide Cybersecurity
The Department of Homeland Security will carry out a series of actions throughout the week to support President Joe Biden's goal of reinforcing government-wide cybersecurity.
In a statement, DHS Secretary Alejandro Mayorkas, a 2021 Wash100 winner, expressed commitment to build on the department's previous work and pursue national and international efforts to improve cybersecurity at all levels.
As part of his weeklong agenda, Mayorkas will increase the required minimum spend on cybersecurity by announcing grant awards under the Federal Emergency Management Agency, DHS said.
He will also attend the President's Cup Cybersecurity Competition, where he is expected to issue a call to action to build a diverse cybersecurity workforce.
In addition, Mayorkas intends to leverage partnerships to address ransomware threats. Cooperation from public and private sector organizations will be central to the realization of a new campaign by the Cybersecurity and Infrastructure Security Agency titled "Reduce the Risk of Ransomware."
To better respond to ransomware incidents and arrest those engaging in such criminal activities, DHS will work closely with the Secret Service through its Cyber Fraud Task Forces.
The DHS secretary will continue participating in engagements in the following weeks to underscore the department's commitment to helping its partners improve risk management and cybersecurity.
Meeting with his foreign counterparts is another priority for Mayorkas, as these engagements promote stronger international cybersecurity collaboration.
DHS, through its component, CISA, has initiated steps over the past months to advance national cybersecurity, including the issuance of a directive requiring federal agencies to implement vulnerability disclosure programs to proactively identify weaknesses in government websites and applications.
CISA also leveraged partnerships with the government and private sector to combat malicious activity perpetrated by North Korean actors against financial institutions.
Category: Cybersecurity
Tags: Alejandro Mayorkas cybersecurity Cybersecurity and Infrastructure Security Agency Department of Homeland Security Joe Biden ransomware