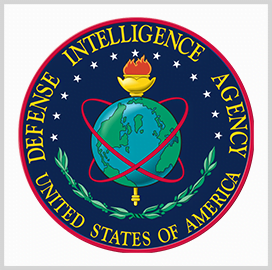 Defense Intelligence
Agency
DIA Seeks to Expand Cloud Capabilities Through C2E Contract
The Defense Intelligence Agency wants to utilize the CIA's multi billion-dollar Commercial Cloud Enterprise contract to leverage expanded cloud capabilities.
While certain details of the contract remain undisclosed, the DIA said it intends to procure services for more cloud storage and edge computing under C2E.
The indefinite-delivery/indefinite-quantity, multiple-award contract has already been awarded to five leading cloud service providers, namely Amazon Web Services, Google, IBM, Microsoft and Oracle, Federal News Network reported.
A report published in November by FedScoop indicates that the contractors will compete for task orders under the cloud service provider portion of the contract for the chance to offer products such as infrastructure-as-a-service, platform-as-a-service and software-as-a-service to agencies across the Intelligence Community.
C2E is a follow-on contract to the $600 million Commercial Cloud Services contract that CIA awarded to Amazon Web Services in 2013.
As C2E gets going, the DIA has its sights set on ramping up its cloud migration efforts.
Currently, the agency has about 40 percent to 45 percent of its applications in the cloud. Jack Gumtow, the DIA's chief information officer, aims to increase that percentage.
Gumtow also wants to purchase storage-as-a-service capabilities once the C2E contract goes live.
Speaking at a Federal News Network-hosted event, he said storage-as-a-service could address the DIA's problem with excessive data allocations.
"If a program needs, for example, 100 gigs worth of data, but in reality they only use 10, and we've allocated 100, I've got 90 gigs that is just spinning and is never used. So we're buying that much storage when I only need a percentage of that storage," he said.
Category: Digital Modernization
Tags: C2E CIA cloud capabilities Commercial Cloud Enterprise contract Defense Intelligence Agency digital modernization Federal News Network Intelligence Community Jack Gumtow DIA