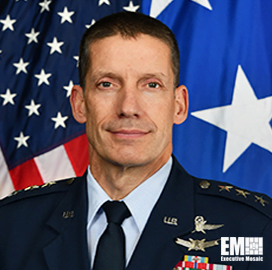 Robert Skinner
Director
DISA
DISA Director Encourages Use of IT as a Service to Meet Government Needs
Air Force Lt. Gen. Robert Skinner, director of the Defense Information Systems Agency, promoted the use of information technology as a service during his appearance at an AFCEA-hosted event.
Skinner said the government should adopt IT as a service at a faster pace and recognize areas where commercial technologies can prove beneficial.
He questioned the government's approach of developing one-off solutions to meet specific needs and instead encouraged investing in readily available commercial technologies that can address government requirements, C4ISRNET reported.
According to Skinner, one major area where industry can help out is in improving the military IT community's lack of mobility.
He noted that the pandemic-induced work from home setup demonstrated the need for the Department of Defense to ensure effective communication lines between senior leaders and service members regardless of their location.
The military already has a number of ongoing enterprise IT as a service projects.
In particular, the Air Force contracted Accenture Federal Services to provide compute and store services to six bases across the U.S. The company is tasked with handling the service's day-to-day computing tasks and migrating Air Force applications to the cloud.
The Army also launched an enterprise-IT-as-a-service pilot with AT&T, Verizon and Microsoft. The purpose of the pilot is to provide the Army with computing, common IT services, hardware, software and networking infrastructure.
In addition to maximizing IT as a service, Skinner wants to utilize robotic process automation to streamline manual IT processes.
The DISA director sees RPA as a solution to what he calls "irritants," allowing the military to focus on command and control initiatives and dealing with adversaries.
Category: Digital Modernization
Tags: C4ISRNET commercial technologies Defense Information Systems Agency digital modernization DISA IT as a service Robert Skinner robotic process automation RPA