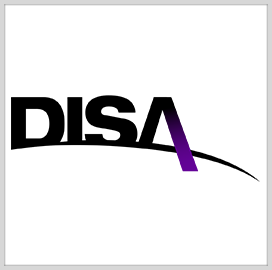 Defense Information
Systems Agency
DISA Partners With Microsoft, AWS to Accelerate Cloud Adoption Across Defense Agencies
Microsoft and Amazon Web Services have entered into collaborative research and development agreements to help the Defense Information Systems Agency's Cloud Computing Program Office accelerate cloud adoption across defense agencies.
The agreements support the Department of Defense's Cloud Infrastructure as Code project, which is aimed at speeding up the lengthy and repetitive process of designing, deploying, configuring and securing cloud environments.
To actualize the IaC project, Microsoft and AWS will develop preconfigured, pre-authorized cloud environments for faster cloud deployment, Nextgov reported.
According to the CCPO website, organizations can use the IaC templates to establish their own decentralized cloud platform.
Microsoft Azure already has a pre-made cloud environment ready for use while AWS' is still under development.
In a blog post, Microsoft's Tom Keane said the DOD Cloud IaC environment for Azure is expected to shorten deployment timelines from 30 weeks to as little as two hours. The company's cloud template will also provide real-time continuous monitoring and compliance and support architecture standardization across all impact levels and data classifications, Keane added.
Through the agreements with Microsoft and AWS, the CCPO hopes to foster collaboration between DISA and cloud service providers, facilitating the exchange of beneficial technology and information and the sharing of resources to mature the DOD Cloud IaC project.
DISA first issued a request for information for IaC capabilities in July 2020. Back then, the agency sought an IaC catalog that can help simplify and automate the environment configuration process.
Category: Digital Modernization
Tags: Amazon Web Services AWS cloud adoption Defense Information Systems Agency digital modernization DISA IaC Infrastructure as Code Microsoft Nextgov Tom Keane