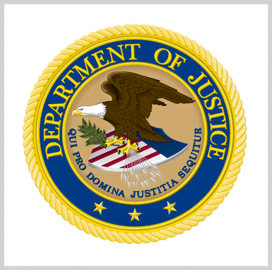 Department of Justice
DOJ Cyber Center Passes DHS Cybersecurity Evaluation
The Department of Homeland Security has certified the Department of Justice's Security Operations Center as a cybersecurity center of excellence.
JSOC achieved the milestone following a cybersecurity assessment under the Cybersecurity Service Provider program, DHS announced Thursday.
According to the DOJ website, JSOC supports government customers by serving as a central hub for network monitoring, incident response, cyber threat intelligence collection and cross-agency threat information sharing.
DHS reported that JSOC met all required standards in the CSP program's 40 cybersecurity evaluation areas, surpassing the standards in 35.
The evaluation areas include vulnerability management, malware protection, continuous monitoring, threat intelligence analytics, detection and response to threats.
DHS said the assessment was jointly done by Immigration and Customs Enforcement and the Transportation Security Administration.
JSOC is the first non-DHS organization that has undergone a cybersecurity assessment under the CSP program, DHS said.
DHS Chief Information Security Officer Kenneth Bible said JSOC's certification demonstrates the ability of two departments with different missions and compositions to collaborate on national cybersecurity.
Beth Cappello, deputy chief information officer at DHS, said JSOC's successful evaluation brings the CSP program a step closer to becoming a federal-wide program.
CSP was established in response to a Trump-era executive order that requires all DHS SOCs to pass an assessment for certification or use the services of a certified provider.
Issued in May 2017, EO 13800 is focused on modernizing federal information technology infrastructure, working with private-sector partners in protecting critical infrastructure and collaborating with foreign allies.
Category: Federal Civilian
Tags: Beth Cappello Center of Excellence CSP cybersecurity Department of Homeland Security Department of Justice DHS DoJ EO 13800 federal civilian ICE information technology JSOC Kenneth Bible Security Operations Center TSA