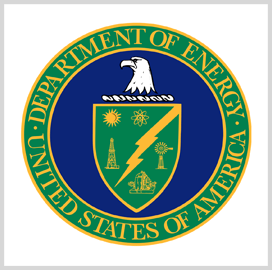 Department of Energy
Energy Department Announces $100M to Fund Clean Energy Tech R&D
The Department of Energy has earmarked $100 million in funding for the development of clean energy technology in support of the Biden administration's climate agenda.
The funding will be made available through the Advanced Research Project Agency-Energy's OPEN 2021 program, the Department of Energy announced Thursday.
"Today we are inviting scientists, inventors, entrepreneurs and creative thinkers around America to join us in developing the energy technologies we need to tackle the climate crisis and build a more equitable clean energy economy," Department of Energy Chief of Staff Tarak Shah said in a press release.
ARPA-E has garnered more than $4.9 billion in private-sector follow-on funding to commercialize clean energy technologies and create good-paying jobs, the department said.
The government has also provided about $2.4 billion in research and development funding through the ARPA-E program since its inception in 2009. 
Past ARPA-E awardees, the department said, helped develop solutions to commercialize solar, geothermal, biofuel and advanced surface coating technologies.
The ARPA-E's OPEN 2021 website provides information and resources for applicants interested in forming project teams and exploring potential collaborations. The website will also host webinars featuring program directors discussing their respective technical areas.
Shah said the department will encourage innovators to support the United States' mission to achieve net-zero emissions by 2050 while opening up millions of jobs.
In 2020, former President Donald Trump officially withdrew the United States from the Paris Agreement. President Joe Biden has signed an executive order to reverse the Trump administration's decision to exit the accord to limit climate-warming greenhouse gas emissions.
Category: Federal Civilian
Tags: ARPA-E Biden administration clean energy Department of Energy federal civilian geothermal OPEN 2021 Paris Agreement solar Tarak Shah