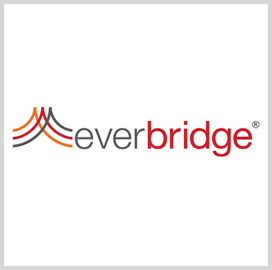 Everbridge
Everbridge Receives New Army Contract to Support DOD Threat Visibility System
The U.S. Army has awarded Everbridge a new three-year contract to provide software solutions that will power the Joint Analytic Real-Time Virtual Information Sharing System, the enterprise system used by the Department of Defense for threat visibility.
The new contract extends the Army's comprehensive antiterrorism and force protection program, which is aimed at ensuring the safety of military personnel and facilities.
The agreement covers support for two U.S. Air Force major and subordinate commands, namely the Air Force Materiel Command and Air Forces Northern. The two commands have announced that they will adopt the threat visibility system to advance their respective threat information sharing and analytics capabilities, Everbridge said Wednesday.
JARVISS is primarily focused on security antiterrorism and other security threats such as natural disasters and active shooters that could affect the operations of the Defense Department.
When the COVID-19 outbreak began, the DOD used JARVISS to provide support for threat analysis of the pandemic. Through the enterprise system, Army commanders and other users within the Pentagon have been receiving insight into the impact of COVID-19 to their global operations, spanning 400 military locations in 70 countries.
JARVISS equips the Army with a capability to identify and assess incidents and threats to military facilities in near real time. The platform was designed to access thousands of open-source feeds worldwide, including news reports, local municipality services, commercial businesses, government agencies and social media. The system can also access data from the Risk Intelligence Monitoring Center of Everbridge.
Mike Mostow, the company's vice president of federal, said in a statement that the Everbridge team is honored to power JARVISS and provide the DOD with threat intelligence and early warning data that allows protection for soldiers and their families around the world.
Category: Defense and Intelligence
Tags: Air Force Materiel Command Air Forces Northern contract win Defense and Intelligence Department of Defense DoD enterprise system Everbridge global threat information sharing system JARVISS Joint Analytic Real-Time Virtual Information Sharing System Mike Mostow US Army