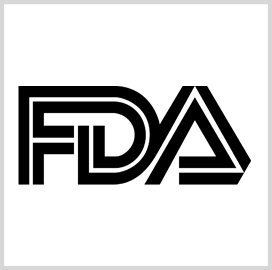 Food and Drug
Administration
FDA Releases Data Modernization Action Plan
The Food and Drug Administration has unveiled a three-pronged action plan to advance enterprise-wide data modernization.
The Data Modernization Action Plan builds on the FDA's Technology Modernization Action Plan, which was released in September 2019 to lay the foundation for the agency's data strategy.
DMAP aims to realize the data strategy set forth by the TMAP with immediate and longer-term actions centered around data use cases, practices and talent, FedHealthIT reported.
A key priority under the plan is to identify data use cases through driver projects, according to FDA Chief Data Officer Ram Iyer.
The action plan defines driver projects as "initiatives with measurable value that help multiple stakeholders envision what is possible, allow technical and data experts to identify needed solutions, and develop foundational capabilities."
They are envisioned to create value around data and build long-term capabilities that would benefit the FDA.
The second part of the plan focuses on enhancing foundational capabilities, maturity and key data practices.
The goal is to build lasting infrastructure that will support the FDA's data modernization after driver projects scale up. Efforts will also be directed toward developing consistent and repeatable data practices across the agency in hopes of creating a sustainable model of work, governance and management of data.
Another priority within the DMAP is to sustain a strong data talent network. To do so, FDA intends to maintain competitive salaries with industry, conduct data training and create internal skills sharing exchanges with other agencies.
FDA worked on the action plan over the past year amid the COVID-19 pandemic as the demand for data and cross-agency collaboration became more apparent.
Category: Digital Modernization
Tags: data modernization Data Modernization Action Plan digital modernization DMAP FDA FedHealthIT Food and Drug Administration Ram Iyer