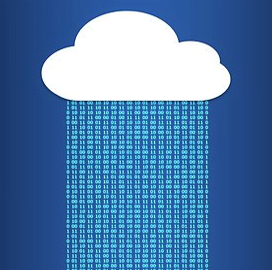 Cloud technology
Federal Spending on Cloud Computing Slows in Fiscal 2020
The federal government spent a total of $6.6 billion on cloud computing in fiscal 2020, an increase from the $6.1 billion spending the previous fiscal year, a report showed. 
Bloomberg Government's analysis showed that the growth federal cloud slowed in fiscal 2020 due to major contract protests and delays caused by the pandemic, Nextgov reported.
The $10 billion Joint Enterprise Defense Infrastructure contract, the Department of Defense's premier cloud contract, is still being contested in court by Amazon Web Services. 
The Pentagon has told Congress that it might reassess its strategy for JEDI if court rulings favor the litigation of government bias against the procurement. 
AWS took shots at the DOD's evaluation process and the integrity of its acquisition officials following the award of JEDI to Microsoft.
According to the Bloomberg Government analysis, the departments of Homeland Security and Education also paused several multimillion-dollar cloud acquisition efforts during the pandemic. 
Bloomberg Government expects the three agencies' spending on cloud computing to rebound in fiscal 2021 as they resume delayed acquisitions. 
The analysis forecasts spending growth of about 10 percent annually through fiscal 2023, with a total expected spend of $8.5 billion across the federal government.
Bloomberg Government reported that about half of the federal government's cloud computing spending since fiscal 2013 have been concentrated on infrastructure- and platform-as-a-service. 
Analysis of recent spending showed that the government is ramping up its acquisition of software-as-a-service and additional cloud support services. 
The DOD's highest-earning cloud services providers are Carahsoft Technology, Dell Technologies, Leidos, Science Applications International and Northrop Grumman.
Category: Digital Modernization
Tags: analysis AWS Bloomberg Government Carahsoft Technology cloud cloud computing cloud support services Dell Technologies Department of Education Department of Homeland Security digital modernization federal IaaS JEDI Leidos Microsoft Nextgov Northrop Grumman PaaS SaaS SAIC