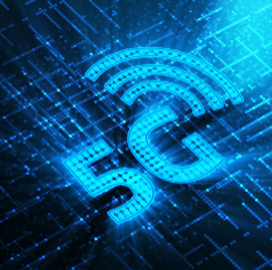 5G
Federated Wireless Deploys CBRS Network to Modernize Marine Corps Warehouses
Federated Wireless, a Virginia-based private network company, has begun deploying a Citizens Broadband Radio Service-enabled private 5G wireless network for the Department of Defense.
Work is being done as part of a multi-year initiative to create a 5G "smart warehouse" reference design that will modernize the warehouse operations of Marine Corps Logistics Command, Federated Wireless said Wednesday.
"This is one of the first of several forward-leaning projects that we and our partners are engaged in with the U.S. government, all designed to accelerate the nation's 5G trajectory," said Sal D'Itri, vice president and general manager of Federated Wireless' federal business unit.
The CBRS is a 150 MHz band allotted by the Federal Communications Commission for property managers who want to deploy their own private LTE networks.
Federal Wireless said its network, once deployed, will support a broad set of smart warehouse use cases, including warehouse robotics, barcode scanning and holographic, augmented and virtual reality applications.
MARCORLOGCOM will have improvements to warehouse operations such as receipt, storage, issuance, inventory, control and the audit of materials and supplies that directly support Marine Corps global operations, Federal Wireless said.
Federal Wireless is working on the project in collaboration with Amazon Web Services, Cisco, JMA Wireless, Vectrus, Perspecta Labs and Capstone Partners.
Kyung Mun, principal analyst at Mobile Experts, said the new capability will fulfill connectivity needs in the sectors for energy, manufacturing and transportation, among others.
He said DOD's deployment of CBRS technology will serve as a signal for others to adopt or deploy shared spectrum at scale.
Category: Digital Modernization
Tags: 5G AWS Citizens Broadband Radio Service Department of Defense deployment digital modernization FCC Federal Communications Commission Federated Wireless Kyung Mun LTE Sal D'Itri VirginiaCBRS