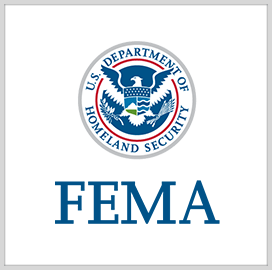 Federal Emergency
Management Agency
FEMA Issues RFI for WebEOC Crisis Management System Support
The Federal Emergency Management Agency has issued a request for information in search of support services to maintain and further develop its Web Emergency Operations Center Crisis Management System.
Since its launch in 2012, the WebEOC CSM has been essential to FEMA's disaster response and recovery efforts as it enables field communications all year round.
FEMA released the RFI to gauge industry expertise and capabilities with regards to continued network systems support, installations, integrations, external interconnections, board development, maintenance, documentation and training system capabilities in the areas of operations, planning and logistics, an announcement on SAM .gov said.
The WebEOC CSM is deployed on the Amazon Cloud and can be accessed from a wide array of internet-enabled platforms, giving emergency workers flexibility as they respond to disasters from anywhere in the world. With the system, authorized users can monitor and manage emergency operations across different disaster response phases from planning to mitigation and response and recovery.
The system currently has more than 18,300 users and supports FEMA and its partners, including FEMA headquarters, regions, field units, all federal interagency members and states, local, territories and tribes partners participating in both national and regional disaster activations and national events.
Specifically, it aids in completing mission assignments issued by FEMA to provide assistance in response to a presidential declaration of an emergency or a major disaster. It also supports the creation, tracking and auditing of disaster relief fund resource requests.
Responses to the RFI are due March 1.
Category: Federal Civilian
Tags: disaster response federal civilian Federal Emergency Management Agency FEMA request for information RFI SAM.gov support services Web Emergency Operations Center Crisis Management System WebEOC CSM