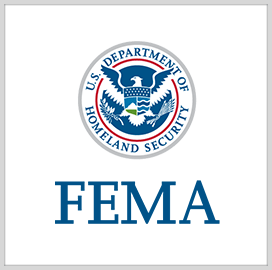 FEMA
FEMA Issues RFI to Improve RPA Adoption
The Federal Emergency Management Agency's Office of the Chief Procurement Officer has issued a request for information to gauge industry expertise and capabilities with regards to improving its adoption of robotics process automation. 
The RFI came with a corresponding matrix where the OCPO listed a range of processes, workflows and procedures that it hopes to streamline and automate through RPA. 
The procurement office outlined specific areas where it needs assistance, including the identification, installation and configuration of RPA software, development of methods for RPA process selection, documentation of processes to be automated and implementation of automations, Nextgov reported. 
One aspect that the OCPO hopes to improve with RPA is its contract closeout process. 
According to the process automation matrix, contract specialists still need to draft closeout packages and send them to team leads for review before they can be signed by a contracting officer and then closed in the Procurement Information System for Management.
The procurement office also wants bots for processing cases from the Committee on Foreign Investment in the U.S. The current process that OCPO has in place for handling CFIUS cases involves digging for summary documents in mailboxes and logging relevant information into a spreadsheet. 
Currently, FEMA is conducting RPA pilots headed by the offices of the chief financial officer and chief information officer. These pilots, according to the agency, are aimed at determining the feasibility of the OCPO testing and applying the RPA.  
Interested sources have until Feb. 16 to submit responses to the RFI.
Category: Digital Modernization
Tags: digital modernization Federal Emergency Management Agency FEMA Nextgov Office of the Chief Procurement Officer request for information RFI Robotics Process Automation RPA