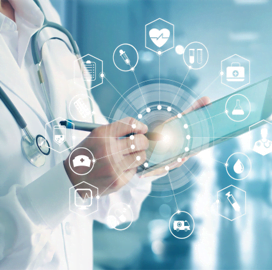 Health information
technology
GAO Advises VA to Postpone Deployment of New Electronic Health Record System
The Government Accountability Office has recommended that the Department of Veterans Affairs delay the deployment of its new electronic health record system at planned locations.
VA has not yet resolved all critical and high-severity test findings, whose fixes were called for in the department's testing plan, GAO said Thursday.
Critical test findings are issues that could result in system failure, while high-severity test findings are issues that have an acceptable workaround.
The high number of critical and high-severity test findings puts the VA at risk of deploying a system that might not perform as intended and could reduce the likelihood of its successful adoption, GAO added.
VA agreed with the watchdog's recommendations and has reportedly identified what actions it should take.
The department first deployed its new EHR system in Spokane, Washington, in October 2020 with no critical test findings and with 306 of the 361 high-severity test findings resolved, GAO said.
Forty-seven of the 55 high-severity test findings were later found to have workarounds accepted by the user community. Seven of the findings were associated with future deployments.
In February 2020, VA decided to delay the launch of the EHR system to allot more time for training employees on how to operate them.
GAO said it expects VA to identify new critical and high-severity test findings during future implementations. The office warned that failure to address such issues will likely result in the system not performing as intended. 
VA created the new EHR system to replace the 30-year-old Veterans Health Information Systems and Technology Architecture, which GAO said no longer supports the department's need to electronically exchange health records with other organizations.
Category: Federal Civilian
Tags: EHR electronic health record federal civilian GAO Government Accountability Office health record Spokane training VistA