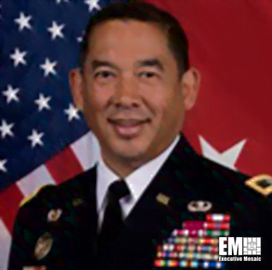 Garrett Yee,
Assistant to the
director, DISA
Garrett Yee to Leave Post as Assistant to DISA Director
Army. Maj. Gen. Garrett Yee is scheduled to step down from his role as assistant to the director of the Defense Information Systems Agency.
According to his DISA profile, Yee leads an 8,000-strong organization of professionals tasked with delivering command and control capabilities and operating a global enterprise infrastructure in support of military leaders.
Yee's last day at DISA will be on April 28, according to an agency spokesperson. DISA has not yet named a successor to Yee, FCW reported.
He previously served as the military deputy to the Army Chief Information Officer/G6 and as a senior information security officer in the Office of the CIO/G6.
The Fremont, California native served as commander of the 335th Signal Command (Theater) (Provisional) in Kuwait and concurrently as the director of cyber information systems for the Combined Joint Task Force – Operation Inherent Resolve.
Yee was previously deputy commanding general for mobilization, military surface deployment and distribution command at Scott Air Force Base in Illinois.
He also served as deputy commander of the 335th Signal Command (Theater) (Provisional) during Operation Enduring Freedom in Afghanistan.
Yee was commissioned into the Army after graduating from Santa Clara University with a bachelor of science degree. Yee also earned a master of business administration from Golden Gate University and a master's degree in strategic studies from the U.S. Army War College, according to his LinkedIn profile.
His awards and decorations include the Army Distinguished Service Medal, Legion of Merit, Bronze Star Medal and the Defense Meritorious Service Medal, DISA said.
Category: Defense and Intelligence
Tags: command and control Defense and Intelligence DISA executive movement FCW Garrett Yee