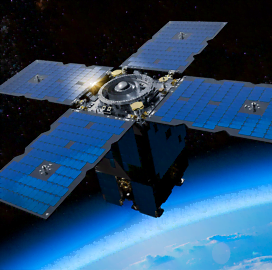 Space hardware
review
HERMES Mission Passes Key Development Milestone
NASA's Heliophysics Environmental and Radiation Measurement Experiment Suite has passed the Key Decision Point C mission review.
The milestone evaluated the HERMES mission's preliminary design and program plan to meet a launch date of no earlier than November 2024. HERMES will proceed to Phase C, which includes the development of the final mission design.
HERMES will be mounted outside the Habitation and Logistics Outpost module of NASA's Lunar Gateway. It will monitor space weather and changes, including solar winds, coronal mass ejections, solar flares and other changes caused by the sun, NASA said.
The space hardware suite consists of four key instruments: the Noise Eliminating Magnetometer Instrument in a Small Integrated System, the Miniaturized Electron pRoton Telescope, the Electron Electrostatic Analyzer and the Solar Probe Analyzer for Ions. SPAN-I will be provided by the University of California-Berkeley while the other components will come from NASA Goddard.
Jim Spann, HERMES program scientist at NASA, said the component is the first manned space weather monitoring program that will go beyond the Earth's magnetic field. He shared that the information HERMES will collect will be used to protect astronauts who will be part of the Artemis mission.
HERMES will also support joint observation campaigns with other spacecraft. It will collaborate with the THEMIS and ARTEMIS spacecraft that are orbiting the moon, adding a new data point to help measure small structures in the solar wind and magnetotail.
The space hardware suite is led by NASA's Goddard Space Flight Center and is designed to support the Artemis mission.
The Artemis mission is designed to bring the next generation of astronauts to the Moon and will be the stepping stone towards manned Mars exploration. It aims to send the next men and the first women to the moon by 2024 and look for sustainable lunar explorations in the mid-to-late-2020s.
Category: Space
Tags: Artemis mission Gateway Goddard Space Flight Center Habitation and Logistics Outpost Heliophysics Environmental and Radiation Measurement Experiment Suite Jim Spann NASA space