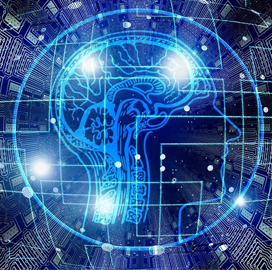 Artificial intelligence
Human Decision-Making Could Fall Short in UAS Warfare, DOD Official Says
The Department of Defense might someday need to rely more on artificial intelligence to make decisions when confronting swarms of unmanned aircraft systems, an official said.
Col. Marc Pelini, division chief for capabilities and requirements in the Joint Counter-Unmanned Aircraft Systems Office, said humans might be unable to make decisions fast enough when dealing with drone swarms in the future, Defense .gov reported Wednesday.
Pelini said current DOD policy requires that there be a human in the counter-UAS decision-making cycle to authorize engagements. 
The danger, according to Pelini, is that a single person would not be able to keep up with potentially thousands of enemy UAS, which he said would require defensive systems to operate as fast as possible. 
In January, DOD publicly released a strategy document outlining its enterprise approach for countering UAS systems. The document covered challenges in the homeland, in host nations and in contingency locations.
The strategy said the imminent integration of AI and automation technology will significantly change the character of warfare.
Army Maj. Gen. Sean Gainey, director of JCO, said the strategy calls for the establishment of a Joint Counter UAS Center of Excellence under the guidance of the Fires Center of Excellence. 
Gainey said the Pentagon is also expected to stand up a joint counter-UAS academy to train service members and leaders on how to fight UAS threats. 
Pelini said the academy would train both "master gunners" on the Army side and experts on developing the joint architecture and systems. The latter would have a deep technical understanding of how systems interact with each other.
Category: Defense and Intelligence
Tags: AI artificial intelligence automation Defense and Intelligence Defense.gov Department of Defense DoD drone JCO Joint Counter-Unmanned Aircraft Systems Office Sean Gainey UAS