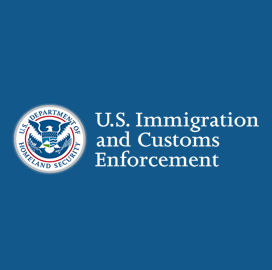 Immigration and
Customs Enforcement
ICE Posts RFI for Cloud App Operations, Maintenance Support
The Department of Homeland Security's Immigration and Customs Enforcement agency has posted a request for information for operations and maintenance support services.
Work will support Homeland Security Investigations' Division 4 Unit 4 Automation and Modernization program, ICE said in an RFI posted on SAM .gov.
HSI serves as the principal investigative arm of DHS and is the second-largest federal investigative agency.
Excella Consulting, an information technology and services company based in Arlington, Virginia, is the incumbent holder of the D4U4 contract, which is scheduled to expire in September.
The D4U4 system was launched in September 2018 alongside the creation of the D4U4 system application. ICE said D4U4 serves as a centralized cloud-based repository for forms and data.
ICE said the program relies on a browser-based, cloud-native application that uses Amazon Web Services and open-source technology to execute digital workflows and store information.
Under the potential contract, the contractor will identify and correct software, performance and implementation failures.
The contractor is expected to be knowledgeable and experienced in using AWS Lambda, AWS ElasticContainer Service, Amazon Athena, Amazon RDS, Amazon QLDB/DynamoDB and Amazon SageMaker, among other applications.
ICE said the new contract will have an additional option for enhancements to the existing open-source continuous integration/continuous delivery pipeline application.
Another optional task involves the addition of financial management enhancements to enable workflow automation and add ledger software enhancements, ICE said.
The contractor will also be responsible for creating and developing standard operating procedures and training materials for the user community, ICE said in its scope of work document.
Category: Digital Modernization
Tags: Amazon Web Services automation AWS CI/CD cloud D4U4 Department of Homeland Security DHS digital modernization Division 4 Unit 4 Excella Consulting Homeland Security Investigations HSI ICE Immigration and Customs Enforcement ledger modernization operations and maintenance SAM.gov