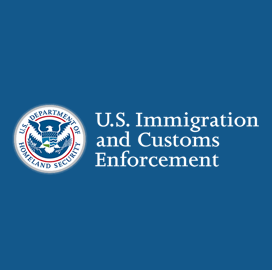 Immigration and Customs
Enforcement
ICE Seeks Sources for SEVP IT Recompete Contract
Immigration and Customs Enforcement has released a request for information to identify sources for the Student and Exchange Visitor Program Information Technology Program Management Office Support Services recompete contract.
The contract, which is currently held by Deloitte, is scheduled to expire in September. Information provided by respondents will be used to identify potential Department of Homeland Security strategic sourcing vehicles, according to the RFI posted on SAM .gov.
SEVP monitors about 1 million international students taking up academic or vocational studies in the United States. The program also certifies schools and programs enrolled in by the students.
ICE said it will later identify what contracting strategies to use to award the contract, which is aimed at assisting in the management, testing and administration of program-wide and project-specific requirements using Agile methodologies.
The requirements include the documentation of portfolio roadmaps, project costs and funding artifacts, system requirements audit support, SEVP assessment and business case development, solutions architecture and technical writing, among others.
The selected vendor will provide recommendations for continuous process improvements based on industry best standards.
ICE also needs the source to create and maintain program-wide schedules, analysis and reporting. The contractor will help government managers in clarifying the requirements, deliverables and milestones for various program temperature components.
The contractor will support the on-going Student and Exchange Visitor Information System under the direction of its business manager.
SEVIS is used by the DHS and the Department of State to ensure that students, visitors and schools comply with U.S. laws.
Information collected through SEVIS are shared with government agencies such as Customs and Border Patrol and U.S. Citizenship and Immigration Services.
Category: Federal Civilian
Tags: federal civilian ICE Immigration and Customs Enforcement information technology request for information RFI SAM.gov SEVIS. Agile SEVP Student and Exchange Visitor Program