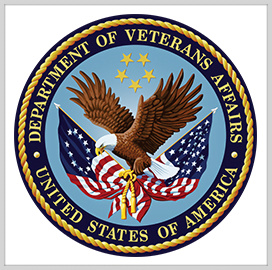 Department of Veterans
Affairs
Investments in Telehealth Enhances VA Delivery of Health Care Services Amid Pandemic
The Department of Veterans Affairs has been able to provide enhanced health care nationwide owing to improvements in telehealth and digital services that it invested in during the start of the COVID-19 pandemic.
Speaking at an AFCEA Bethesda virtual event, Dr. Kevin Galpin, executive director for telehealth services at VA's Office of Connected Care, said telemedicine has enabled the agency to engage with veterans in between visits and connect them with health experts when they need it.
Galpin said the VA's synchronous telehealth program allows for the delivery of health care services via real-time video, GovernmentCIO Media & Research reported.
Galpin added that the VA also offers asynchronous telehealth services. Unlike synchronous telemedicine, which relies on live video-conferencing, asynchronous telemedicine involves transmitting health data to be reviewed by a medical specialist.
The VA is also implementing a program that connects veterans with care coordinators and allows the agency to keep track of a patient's chronic conditions and health outcomes remotely, Galpin said.
According to Galpin, the VA provided 5.6 million episodes of care to over 1.6 million veterans in 2020.
Drew Myklegard, an executive director at the VA Office of Information and Technology, also noted that investments in IT and digital services have facilitated the agency's distribution of COVID-19 vaccines.
Myklegard said the VA informed veterans of their vaccine appointments via text messaging, with over 150,000 first dose appointments having been scheduled this way instead of phone calls.
A takeaway from the pandemic, according to Veterans Health Administration's Dr. Ryan Vega, is that the infrastructure by which the VA delivers health care must be in place regardless of the scenario.
Category: Federal Civilian
Tags: AFCEA COVID-19 pandemic Department of Veterans Affairs digital connectivity Drew Myklegard federal civilian GovernmentCIO Media & Research Kevin Galpin telehealth VA veterans care