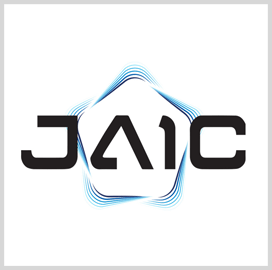 Joint Artificial
Intelligence Center
JAIC Seeking Proposals for $241M Data Readiness for AI Development Contract
The Joint Artificial Intelligence Center has issued a request for proposals for a $241 million contract that will prepare the Department of Defense for artificial intelligence development.
The Data Readiness for Artificial Intelligence Development services contract will be executed over the course of five years. The DOD is seeking proposals that will result in multiple basic ordering agreements, according to the solicitation document posted on SAM .gov.
The RFP states that JAIC is seeking proposals from companies that can help government users prepare data for AI applications by developing an "easily accessible" path to access commercial services designed to meet complex technical challenges in data preparation for AI, Nextgov reported.
According to the performance work statement included in the solicitation, the Pentagon is in need of services such as curating, preparing, securing and encrypting data for AI; as well as securing, packaging and delivering AI-powered tools.
Companies that can integrate AI tools into cloud platforms are also of interest to the Defense Department.
The multi-million-dollar contract is envisioned to position the DOD to "effectively" prepare AI data to support the full range of AI activities across the department.
Earlier this year, Jane Pinelis, the testing and evaluation chief of JAIC, said that the DRAID blanket purchase agreement and another previously issued multi-award contract will help connect DOD organizations to industry partners with services that facilitate the adoption of AI.
Data readiness is one of the biggest challenges that impede the deployment of AI across the Pentagon, Pinelis said.
JAIC will accept questions regarding the DRAID contract RFP until April 7. Industry may submit responses to the RFP until April 28.
Category: Defense and Intelligence
Tags: AI development AI tools artificial intelligence data encryption data preparation Data Readiness for Artificial Intelligence Development Defense and Intelligence Department of Defense DoD DRAID JAIC Jane Pinelis Joint Artificial Intelligence Center Nextgov packaging request for proposals RFP SAM.gov security solicitation