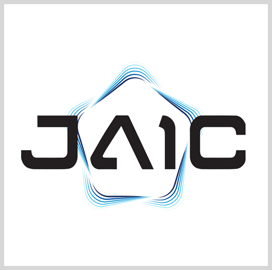 Joint Artificial
Intelligence Center
JAIC's Joint Common Foundation Reaches Initial Operating Capability, Director Says
The Department of Defense Joint Artificial Intelligence Center's Joint Common Foundation has reached initial operating capability, according to a senior official.
JAIC Director Michael Groen, a speaker at a past Potomac Officers Club event, said the center has already begun onboarding users from the military services, FedScoop reported Tuesday.
"The JCF is live, we have the tools, we are starting to develop, we are starting to host data, we are starting to host algorithms," Groen said at the National Defense Industry Association's National Security AI Conference and Exhibition.
Officials previously described the JCF as an AI development environment featuring cloud platforms where military developers can make the most out of the emerging technology.
Former JAIC acting Director Nand Mulchandani has said that the JCF will be supported by several cloud platforms across DOD, including the Air Force's Cloud One and the Joint Enterprise Defense Infrastructure.
Following the initial launch, Groen announced plans to add a "block upgrade" to the JCF every month to expand its data hosting and coding capabilities. He said he also wants to add more services every month.
Groen said the target market for the JCF is the DOD components that do not yet have a service-designed platform like the Air Force's Platform One.
JAIC is currently conducting a survey to collect feedback from the initial users of the AI development platform, according to Groen.
Former DOD Chief Information Officer Dana Deasy, a past Potomac Officers Club event speaker and a two-time Wash100 winner, previously said that JAIC wants to establish itself as the go-to place for all of the military's AI needs in 2021.
The effort will be deemed successful when JAIC becomes used in conversations at all levels of the department, Deasy added.
Category: Defense and Intelligence
Tags: AI Air Force artificial intelligence Cloud One Dana Deasy Defense and Intelligence Department of Defense DoD FedScoop JAIC JCF Joint Artificial Intelligence Center Joint Common Foundation Joint Enterprise Defense Infrastructure Michael Groen Platform One