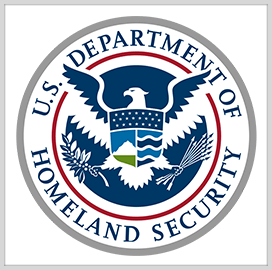 Department of Homeland
Security
Jake Braun Appointed as Senior Adviser to DHS Management Directorate
President Joe Biden has selected Jake Braun, founding partner and former CEO of Cambridge Global Advisors, to serve as senior adviser to the Department of Homeland Security Management Directorate.
Braun will share his expertise with a directorate tasked with handling budgets, appropriations, expenditure of funds, accounting and finance, procurement, human resources and personnel, and information technology systems.
The appointment marks Braun's return to the federal government after a previous stint as the DHS-White House liaison during the Obama Administration, Homeland Security Today reported.
Throughout his career, Braun has been dedicated to leading cybersecurity and national security efforts.
In 2013, he established CGA as a bipartisan national security strategic advisory firm. It has since helped clients manage their national security programs, practices and policies.
According to Christopher Burnham, chairman and founding partner of CGA, Braun was pivotal to the firm's growth and the expansion of its offerings in cybersecurity assessments, cyber training and election security.
Braun also played a critical role in expanding CGA's footprint in the public and private sectors and overseas presence, particularly in Latin America and Asia.
In 2017, he co-founded the Voting Village at DEFCON to shed light on the vulnerabilities in election equipment and voting infrastructure. He also launched the Cyber Policy Initiative at the University of Chicago, which aims to advance the field of cyber policy by examining the link between national security, politics and technology.
Category: Federal Civilian
Tags: Cambridge Global Advisors CGA Christopher Burnham Department of Homeland Security DHS DHS Management Directorate federal civilian Homeland Security Today Jake Braun Joe Biden