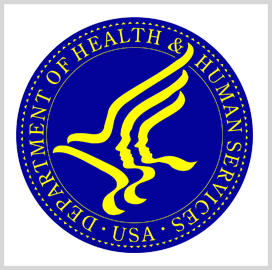 Department of Health and
Human Services
Kevin Duvall: Data Collection, Sharing Process at HHS Changed Throughout Pandemic
Kevin Duvall, the acting chief data officer of the Department of Health and Human Services, said on March 18 that the organization's process of COVID-19 data collection and sharing has changed as the pandemic continues to affect people's lives.
He explained that the evolution of data collection and sharing allows the HHS to meet the needs of agencies, hospitals, industry and the public, FedScoop reported.
The Office of the Assistant Secretary for Preparedness and Response is tasked with supporting hospitals by providing personal protective equipment such as medicines and masks. In July, the office faced issues in distributing the Remdesivir drug. In response, the HHS began asking hospitals to submit reports about their supply.
The health department also implemented the COVID-19 Community Profile Report. Duvall was instrumental in the release of the internal tool designed to provide analyses that include recent pandemic outcomes and contextual information at the county, state and regional levels; and supports virtual interpretation of results.
According to the acting CDO, the data had to evolve in accordance with the government's response to the pandemic. When the HHS became "more comfortable" with datasets and felt that it had "good and sound" data quality, the department began releasing more open data, he explained.
Another development involves HealthData.gov. The website's look recently changed as the HHS migrated it to a platform with new capabilities such as API-accessible interfaces for datasets needed by researchers, journalists and companies.
The COVID-19 Community Profile Report is downloadable via HealthData .gov and is being updated on a daily basis.
Category: Federal Civilian
Tags: ASPR Assistant Secretary for Preparedness and Response coronavirus COVID-19 Community Profile Report data data collection data sharing Department of Health and Human Services federal civilian FedScoop HHS Kevin Duvall