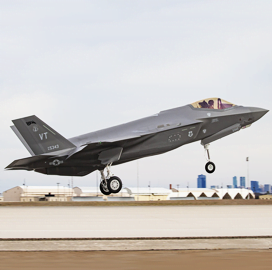 Lockheed Martin F-35
Michael Schmidt Takes Charge of DOD's F-35 Joint Program Office
Lt. Gen. Michael Schmidt, a speaker at a past Potomac Officers Club event, has assumed leadership of the Department of Defense's F-35 Joint Program Office. He succeeded Air Force Lt. Gen. Eric Fick, who had held the role since July 2019.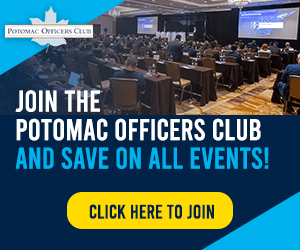 Schmidt will lead an office that is currently in protracted negotiations with Lockheed Martin over Lots 15-17 of the Joint Strike Fighter.
He will also take charge of the F-35's Block 4 modernization program aimed at equipping it with improved weapons, sensors and computers, Breaking Defense reported Tuesday.
"I'm truly honored to have been asked to take over the best fighter aircraft in the world and look forward to make it even better," he said during the change of command.
In the early 2000s, Schmidt served as the Pentagon's lead program element monitor for the F-35, according to the Air Force Materiel Command. He also supported the Joint Strike Fighter Program Office responsible for training pilots and equipping F-35 systems.
Schmidt most recently served as the program executive officer for command, control, communications, intelligence and networks. Then a major general, he led a team tasked with sustaining the U.S. Air Force's enterprise networks.
He previously highlighted C3I&N's role in enabling USAF's Advanced Battle Management effort, the Department of the Air Force secretary's seven operational imperatives and the DOD's Joint All-Domain Command and Control concept.
Category: Defense and Intelligence
Tags: Air Force Materiel Command Breaking Defense C3I&N Defense and Intelligence F-35 Joint Strike Fighter Michael Schmidt