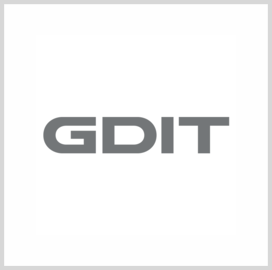 General Dynamics
Information Technology
MilCloud 2.0 on Track for Impact Level 6 Authorization, GDIT Says
General Dynamics Information Technology said that milCloud 2.0, the company's warfighter-focused cloud instance, is on track to receive authorization that would allow it to host classified workloads.
Jim Matney, vice president and general manager at GDIT, said milCloud 2.0 will likely host additional migrations once it secures Impact Level 6 authorization, Nextgov reported.
The Defense Information Systems Agency reserves IL6 clearance for the storage and processing of information classified up to the "secret" level.
IL6 data that is exclusively cloud-based may only be processed in a DOD private or federal government community cloud, according to Microsoft.
GDIT's milCloud 2.0 was designed to meet requirements related to infrastructure-as-a-service, consulting and engineering services, migration services and professional services.
The company touts milCloud 2.0 as having critical security controls not available in commercial clouds, as well as being easily and rapidly deployable.
Danielle Metz, the DOD's deputy chief information officer for the information enterprise, told Nextgov that milCloud 2.0 will fulfill the military services' need for a general-purpose cloud as stated in the agency's cloud strategy.
In the strategy, the DOD said it needs to rely on an industry partner to implement a general-purpose cloud because of the department's lack of large-scale, enterprise, commercial cloud experience.
The DOD wanted the Joint Enterprise Defense Infrastructure to serve as an enterprise-wide cloud solution for the majority of its systems and applications.
The award of the JEDI contract, which is reportedly valued at $10 billion, has been held up by a legal battle involving Microsoft and Amazon Web Services.
In the meantime, the DOD is directing resources to existing solutions such as milCloud 2.0 and the Air Force's Cloud One platform, Metz said.
Category: Digital Modernization
Tags: Amazon Web Services AWS cloud cloud strategy Danielle Metz digital modernization DISA GDIT General Dynamics Information Technology general-purpose cloud IL6 Impact Level 6 JEDI Joint Enterprise Defense Infrastructure Microsoft milCloud 2.0 Nextgov