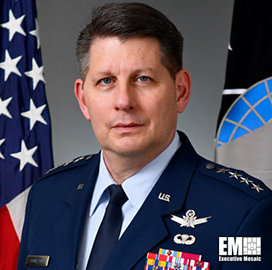 David Thompson
Space Ops Vice Chief
US Space Force
Military Services All Eyeing Space-Based Capabilities, Space Force Official Says
The Army, Navy, Air Force and Marine Corps want to provide their soldiers with the ability to receive information from space, according to a top Space Force official.
Gen. David Thompson, vice chief of space operations, said the Army and the Space Force are discussing how they can fund and operationalize space-based capabilities for combat, SpaceNews reported.
The Army recently approved a document needed to start rapidly experimenting and prototyping capabilities for tactical space-based sensors.
With the Tactical Space Layer abbreviated capability development document, the Army plans to explore the use of satellites in low-Earth orbit for giving soldiers dedicated surveillance, navigation and imaging capabilities.
The TLS is expected to enable long-range precision fires and ground maneuvers should the Global Positioning System be jammed during conflict.
"There is no question the Army recognizes that space capabilities, that information from space are vital to joint warfighting. It's vital to the Army, the Navy, the Air Force and the Marines as well," Thompson told SpaceNews in an interview.
He said the service leaders' interest in space-based capabilities is reflected in the budget proposals they submit to the Department of Defense. But it is still unclear whether future budgets will support the services' demand, Thompson added.
The combatant commands and the Joint Staff have also been identifying what space-based capabilities they need and that they expect the Space Force to be able to provide, according to the vice chief.
Thompson said the military needs more resources to build the space and ground-based infrastructure needed to support the demand.
Category: Space
Tags: Air Force Army budget David Thompson Department of Defense DoD GPS Marine Corps Navy satellite space Space Force SpaceNews Tactical Space Laser TLS