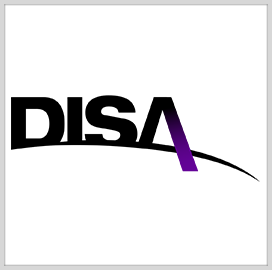 Defense Information
Systems Agency
More Users Migrate to DISA's New Microsoft 365 Platform
A thousand more users have migrated to a Microsoft 365 platform launched as part of the Defense Information Systems Agency's Defense Enterprise Office Solutions project.
The capability, known as DOD365, offers collaboration tools to replace the temporary Commercial Virtual Remote solution, which enabled the Department of Defense's shift to mass telework.
DISA initially migrated 16,000 users to the platform in February. Now, the platform hosts 17,000 users from DISA and the Joint Force Headquarters-Department of Defense Information Network, Nextgov reported Tuesday.
More users are expected to make the jump.
During her last media roundtable, former DISA Director Vice Adm. Nancy Norton sought to migrate users from other commands to DOD365.
To facilitate the onboarding of new users, DISA plans to release a guide detailing the agency's own experience moving to the Microsoft 365 platform.
DEOS program director Caroline Bean said the document will serve as a checklist to help agencies determine their readiness for migration. It would also contain a comparison of pre- and post- migration capabilities and limitations, Bean added.
In terms of challenges, she noted that users will likely experience problems with local network configuration.
She also said there have been problems during the in-between period of the migration process. According to Bean, there have been instances where users still had the CVR solution in use while they were already migrating to the new platform.
Moving forward, DISA wants to enable DEOS services for users outside the continental U.S. Microsoft also plans on upgrading the platform's Impact Level 5 security to IL6 to accommodate classified workloads.
Category: Digital Modernization
Tags: Caroline Bean Defense Enterprise Office Solutions Defense Information Systems Agency DEOS digital modernization DISA DOD365 Nancy Norton Nextgov