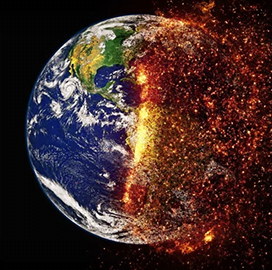 Climate change
NASA Added to White House National Climate Task Force
NASA has been added to the White House National Climate Task Force, which consists of cabinet leaders and senior administration officials tasked with mobilizing the Biden administration's governmentwide approach to climate change.
As a member of the task force, NASA brings expertise in observing and understanding environmental changes to Earth.
Data collected from NASA satellites helps improve weather forecasts, informs farming practices and supports decision makers at all levels of government and the private sector, the space agency said.
In a statement, Gavin Schmidt, acting NASA senior climate advisor, acknowledged climate change as one of the most pressing issues today.
"Given our unique ability to observe the planet from space and the long-term data records we've been able to assemble, NASA is in a prime position to inform policy decisions in the current administration and beyond," Schmidt said.
The task force, which is chaired by National Climate Advisor Gina McCarthy, was created as part of an executive order issued by President Biden during his first week of office.
Its mission is to promote key federal actions aimed at reducing climate pollution, increasing climate change resilience, protecting public health, conserving biodiversity, delivering environmental justice and creating well-paying union jobs.
NASA will work on the task force alongside the attorney general, the administrator of the Environmental Protection Agency, the assistant to the president for economic policy and the secretaries of defense, treasury, energy, transportation, homeland security, labor, commerce, agriculture and interior.
McCarthy recently convened the task force in a virtual meeting to discuss plans to integrate addressing climate change across federal agencies. During the meeting, officials shared plans to position the U.S. as a global leader in the clean energy revolution.
Category: Space
Tags: climate change Gavin Schmidt Gina McCarthy NASA National Climate Task Force space White House