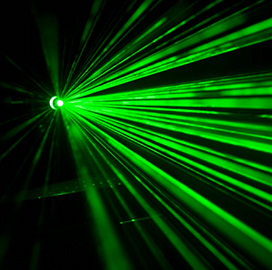 Laser technology
Navy to Install High-Energy Laser on Destroyer Before 2022
The Navy said it plans to install a high-energy laser weapon on one of its destroyers before the end of 2021.
The High Energy Laser with Integrated Optical-dazzler and Surveillance is slated to be integrated with the Aegis Combat System aboard a Flight IIA DDG Arleigh Burke destroyer, National Defense Magazine reported Monday.
"We're delivering a full-end system that actually brings defense capabilities to an area where there currently isn't any and exceeds the capability I think we all had in our mind going forward," said Joe Ottaviano, business development director for advanced product solutions at Lockheed Martin.
Lockheed Martin is under a Surface Navy Laser Weapon System contract to provide a directed-energy capability through HELIOS.
The company completed the technology's critical design review and Navy factory qualification processes in 2020. Factory tests in Moorestown, New Jersey, showed that HELIOS can consistently achieve full-power operation at above 60 kW.
While HELIOS will initially be integrated with the Aegis Combat System, Lockheed said the weapon can also be adapted for other ship types and combat systems, including aircraft carriers and big-deck amphibious vessels.
Lockheed executives said HELIOS' optical tracking capabilities can also double as an intelligence, reconnaissance and surveillance sensor while the laser is not in use.
Ottaviano said directed-energy weapons have virtually unlimited ammunition and can fire for as long as the ship has power.
The Army is pursuing similar capabilities. The service's Rapid Capabilities and Critical Technologies Office recently tapped industry to weaponize high-energy lasers against small unmanned aircraft systems.
The sought solution is expected to have increased magazine depth, reduced operational costs, less interference from untargeted systems and less risk of collateral damage compared to older systems.
Category: Defense and Intelligence
Tags: Aegis combat system Army Defense and Intelligence directed energy HEL HELIOS high-energy laser Joe Ottaviano laser Lockheed Martin National Defense Magazine Navy RCCTO