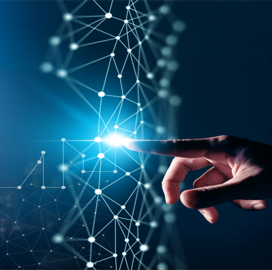 Digital modernization
Nelnet, EKI-Digital Partner to Support Government, Financial Services Modernization Efforts
Nelnet has partnered with EKI-Digital, a quantitative digital transformation company, to help the government and financial services industry manage their digital modernization efforts.
As part of the partnership, Nelnet and EKI-Digital will help clients acquire digital modernization capabilities without having to take on the risk of investing in traditional information capital projects.
"Clients rely on our advanced technology solutions, efficient operations and exemplary service to transform and support their organizations. With this announcement, we're excited for the opportunity to serve them even better," said Peter Sanderson, chief revenue officer within Nelnet's diversified services division.
Nelnet said its back-office processing and customer service and support will work well in tandem with EKI-Digital's technology strategy, design and implementation services.
EKI-Digital specializes in implementing algorithms and lean-digital application architecture designed for optimizing digital and procurement transformation efforts.
The company has helped public and private organizations improve performance by adopting proprietary digital architecture and algorithmic opportunity identification capabilities, Nelnet said.
Nelnet develops technology solutions designed to improve customer experiences. The company said it has decades of experience implementing scalable solutions that help customers navigate complex government and financial programs, including student loans and state unemployment insurance claims.
Nelnet added that its offerings are focused on educational services, technology solutions, professional services, telecommunications and asset management.
The company makes investments in real estate, early-stage and emerging growth companies and in communications technology. Nelnet said its investment in ALLO Communications provides customers with access to reliable internet and telephone services.
Robert Blackwell Jr., CEO of EKI-Digital, commended Nelnet for its commitment to customer, employee and community success.
Category: Digital Modernization
Tags: digital modernization EKI-Digital information technology IT Nelnet optimization partnership Peter Sanderson quantitative