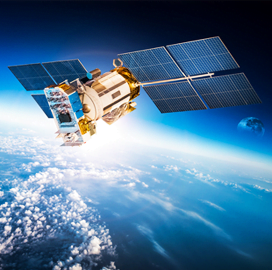 Positioning, navigation
and timing technology
NIST Publishes Final Version of PNT Cybersecurity Profile
The National Institute of Standards and Technology has released new guidance on a government-wide effort to improve the cybersecurity of positioning, navigation and timing services.
NIST published the PNT profile in response to Executive Order 13905, titled "Strengthening National Resilience Through Responsible Use of Positioning, Navigation and Timing Services," Nextgov reported Tuesday.
"Many efforts to secure PNT services were underway before we began developing this profile, but there wasn't a formal reference for risk mitigation that everyone could use," Jim McCarthy, one of the profile's authors, said in a press release.
The NIST PNT profile was designed to help organizations manage risks to systems, networks and assets such as the Global Positioning System.
In May 2020, NIST sought public input on what should be included in the profile's final version. NIST has added a "Quick Guide" section since the release of the publication's draft version.
McCarthy said the Quick Guide offers a simplified overview of all the areas covered in the profile, making the processes easier for users less familiar with their own use of PNT services.
The profile includes a comprehensive list of PNT cybersecurity references to help most users tailor NIST's approach to their own systems, McCarthy added.
On May 19, McCarthy and James Platt, a top PNT official from the Cybersecurity and Infrastructure Security Agency, will give an online presentation about the government's efforts to increase the resiliency of PNT services. The pre-recorded presentation will be played during the virtual RSA Conference.
Category: Cybersecurity
Tags: CISA cybersecurity GPS James Platt Jim McCarthy National Institute of Standards and Technology NIST PNT profile RSA Conference