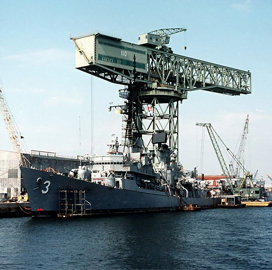 Norfolk Naval Shipyard
Norfolk Naval Shipyard Migrating to Maritime Systems Environment in April
Norfolk Naval Shipyard in Portsmouth, Virginia, is set to complete its migration to the Maritime Systems Environment after more than five years of work.
According to an executive brief from the shipyard, MSE is a computer system update of corporate applications to enhance NNSY's processes involved in cybersecurity and software maintenance.
NNSY will migrate to MSE on April 9, when the applications currently in use will be turned off, CHIPS Magazine reported.
With the new computer system environment, all corporate applications will be web-based and have minor modifications to the interface look and feel, the brief states. MSE also integrates minor functionality changes into the shipyard's Advanced Industrial Management/Execution Priorities, Supervisor Desk and Business Objects applications, the brief added.
One of the improvements that come with the MSE is the ease of access using the Common Access Card. When switching between different applications, users will only need their CAC, their correct certificate and PIN to access the new system instead of needing various passwords to access different applications.
The biggest difficulty that officials dealt with during the transition is the rigorous process of ensuring that MSE is ready for deployment.
There has been an extensive amount of testing, development and deployment of training across the Navy's four shipyards, according to Phil Imhof, implementation support group manager for NNSY's operations department. NNSY-developed local applications and interfaces with the corporate applications migrating to MSE need reconfiguration, recoding and testing, he said.
Once NNSY's move to MSE is complete, Imhof's team will implement the Electronic Technical Work Document, which processes task group instructions for mechanics executing work on the deckplate.
The MSE migration is only the technical predecessor to migrating to the ETWD, Imhof said, noting that testing in all of the four shipyards will begin in April.
Category: Cybersecurity
Tags: CHIPS Magazine cybersecurity Department of the Navy Electronic Technical Work Document ETWD Maritime Systems Environment MSE Naval Sea Systems Command NNSY Norfolk Naval Shipyard Phil Imhof software maintenance US Navy