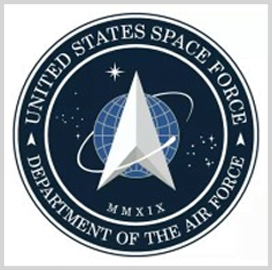 US Space Force
Northrop, Boeing Advance to Next Phase of Space Force's Protected Tactical SATCOM Program
The U.S. Space Force has given Northrop Grumman and Boeing the green light to proceed with the development of jam-resistant communications payloads for the Protected Tactical SATCOM program.
Work on the payloads began last year following the award of three prototype design contracts with a combined value of $684 million to Northrop, Boeing and Lockheed Martin, SpaceNews reported Thursday.
The Space and Missile Systems Center awarded the contracts with the intention of selecting just two prototype payloads to advance in the PTS program after the preliminary design phase.
According to SMC, the contractors' prototype designs were evaluated based on payload performance, extensibility to full production, modularity, hostability, cost, schedule and risk. The Space Force wrapped up prototype evaluations in March.
In a statement, Northrop Grumman said it was able to demonstrate interoperability between its prototype and the government's PTS terminal. The aerospace company announced that it was also able to validate the anti-jam waveform that protects communications signals from disruptions.
Northrop and Boeing's payloads are scheduled for launch in 2024 for on-orbit demonstrations that will last three to five years.
The PTS program began in 2018 as an Air Force initiative. The objective of the program is to provide government agencies and military forces with secure satellite communications services to reduce their reliance on Lockheed's Advanced Extremely High Frequency satellites, which are used for classified-level communications.
The Space Force is looking to incorporate the PTS prototypes into next-generation secure communications satellites over the next decade, with the goal of possibly replacing AEHF satellites.
Category: Space
Tags: Advanced Extremely High Frequency satellite Boeing Lockheed Martin Northrop Grumman Protected Tactical SATCOM program prototype payload PTS space Space and Missile Systems Center SpaceNews U.S. Space Force