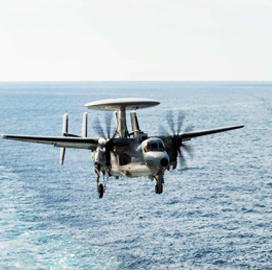 E-2D aircraft
Northrop Grumman Set to Support Navy's Manned-Unmanned Teaming Initiative
Northrop Grumman is set to receive a sole-source contract from the Navy to enable officers aboard the E-2D Advanced Hawkeye to control unmanned air vehicles.
The contract will require Northrop to modify the E-2D aircraft's mission computer and display software. The contract supports the Navy's vision of coordinating missions through manned-unmanned teaming, Flight Global reported.
According to Vice Adm. James Kilby, deputy chief of naval operations for warfighting requirements and capabilities, the goal is to establish a control center on aircraft carriers for the service's UAVs.
The Navy envisions utilizing manned-unmanned teaming technologies to move some of the command and control activities of future carrier-based UAVs off-ship.
One of the targeted aircraft for the manned-unmanned teaming initiative is the Boeing MQ-25A Stingray, an aerial refueling drone designed to extend the reach of Lockheed Martin F-35C fighter jets.
Speaking at a recent House committee hearing, Kilby said that once leaders work out how to control the MQ-25A from a carrier deck, the Navy plans to examine whether the UAV can be deployed to support intelligence, surveillance and reconnaissance, electronic attack and strike missions.
Kilby noted that the MQ-25A could have uses for jamming radars and carrying out electronic attacks in coordination with a manned aircraft within contested airspace and an adversary's anti-access and area denial zone.
He added that the manned-unmanned teaming for the MQ-25A would be enabled by the Navy's Project Overmatch, an effort aimed at facilitating synchronized swarming attacks at sea. The project is the Navy's contribution to the military's Joint All-Domain Command and Control initiative.
Category: Defense and Intelligence
Tags: Boeing MQ-25A Stingray Defense and Intelligence E-2D Advanced Hawkeye Flight Global James Kilby Northrop Grumman UAV unmanned US Navy