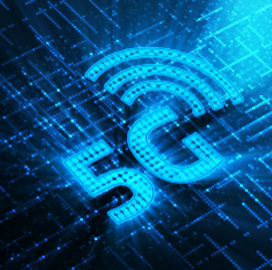 5G technology
Omnispace Demonstrates 5G-via-Satellite Capability for Department of Defense
Omnispace, a satellite infrastructure operator, said it has demonstrated an initial 5G-via-satellite capability for the Department of Defense.
The test was conducted at LinQuest's Northern Virginia laboratory in collaboration with the National Security Innovation Network, the Navy and the Marine Corps, Omnispace said Monday.
During the test, Omnispace's on-orbit satellite received emulated 5G radio access network data from several commercial off-the-shelf 5G devices.
Campbell Marshall, vice president of government and international markets at Omnispace, said the capability will provide warfighters with global connectivity and "true comms-on-the-move."
Brandon Newell, director of the Naval X SoCal Tech Bridge, said global 5G connectivity across multiple domains will have an impact on a range of government and military operations, particularly ones outside of dense urban environments.
The federal government has been using newly implemented 5G networks to accelerate information technology modernization, top officials have previously said.
Keith Nakasone, the General Services Administration's deputy assistant commissioner for IT acquisitions, said many federal departments are working to determine how best to integrate 5G into their IT systems before carrying out direct implementation. Nakasone was a speaker at a past Potomac Officers Club event.
Federal civilian agencies such as the Department of Veterans Affairs have tapped industry to ramp up the implementation of 5G capabilities.
VA teamed up with AT&T to begin 5G experiments at the Puget Sound Health Care System. The experiments are focused on various health care applications.
Omnispace said it plans to make its direct-to-satellite 5G non-terrestrial network technology available through its global network, which the company said leverages 2 GHz priority spectrum rights.
Category: Space
Tags: 5G-via-satellite AT&T Brandon Newell Campbell Marshall Department of Defense Department of Veterans Affairs DoD General Services Administration GSA information technology IT Keith Nakasone LinQuest Marine Corps modernization National Security Innovation Network Naval X Navy Northern Virginia NSIN Omnispace Potomac Officers Club Puget Sound Health Care System RAN satellite SoCal Tech Bridge space VA