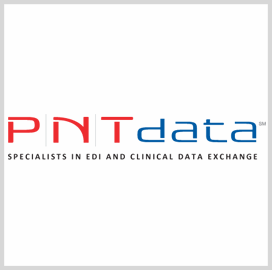 PNT Data
PNT Data Wins Insurance Identification and Verification Contract With VA
The Department of Veterans Affairs has awarded PNT Data a $25 million insurance identification and verification contract.
Under the terms of the contract, PNT Data will support two major initiatives at the VA Financial Services Center in Austin, Texas.
Work on the contract includes facilitating the transmission of electronic eligibility/benefit inquiry and response to various commercial payers, PNT Data said. The contract also calls for the provision of insurance coverage discovery solutions to identify veteran commercial health policies when the VA does not have other billable health insurance information on file.
Services provided under the contract are expected to increase the number of VA's electronic transactions, facilitate administrative simplification and recover costs tied with providing care to veterans.
G. Allen DeGraw, founder and chief executive officer of PNT Data, said in a statement that the award highlights his company's experience in serving the largest commercial health care organizations.
According to DeGraw, PNT Data has been providing electronic data interchange transaction services in the commercial health care market for 17 years.
Having started catering to federal clients in 2018, DeGraw considers the contract as an excellent opportunity for PNT Data to demonstrate its commercial health care experience and best practices to the VA.
The single-award indefinite-delivery/indefinite-quantity contract has a one-year base period, which can be extended to four more years if all options are exercised.
PNT Data beat four other bidders to win the contract.
Category: Federal Civilian
Tags: contract award Department of Veterans Affairs federal civilian G. Allen DeGraw IDIQ Insurance Identification and Verification PNT Data VA Financial Services Center